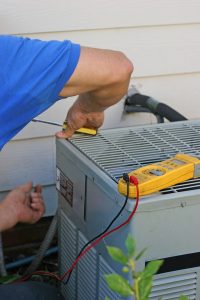 Your air conditioning system probably isn't on your mind much, since early spring doesn't usually bring with it a sudden increase in heat. No, we're going to have patches of cold weather ahead of us before we settle into the genuine summer weather. But spring is still the best time to take care of an important service for your home's air conditioner: to give it a thorough inspection and tune-up.
We don't mean you personally have to do this job. In fact, you can't. Only professionals have the training and tools for complete spring maintenance service on an AC. It's easy to get that service, however, when you join the Temprite Comfort Club.
What You Get With the Comfort Club
The best benefit of membership is straightforward: you'll have spring air conditioning maintenance in Courtenay, BC each year. Or wherever you are in the north island. And regular AC maintenance is packed with numerous benefits:
Longer system life: An AC that has regular inspections and tune-ups on average last twice as long as a system that doesn't. Why only keep your AC for 7 years when you can have it run for 15?
Lower utility bills: When an air conditioner is cleaned, its parts lubricated, and other components tuned-up, it operates at greater energy efficiency. Without maintenance, the AC will decline and start costing you more to operate each year. Without Comfort Club, you'll keep your AC at 95% of its efficiency rating for most of its life.
Fewer repair calls: If an Ac is running its best with less wear and tear, that means fewer times it will need to have repairs done. In fact, you can expect to avoid 85% of the repairs your system might otherwise need thanks to membership in the Comfort Club.
Greater reliability: You don't want to worry that your air conditioner will crash right when you need it the most. Maintenance gives you the best protection against this type of break down, so you'll not only enjoy comfort, you'll enjoy peace of mind.
Warranty protection: Many manufacturer's warranties are voided if the equipment it covers isn't professionally maintained. You'll keep this important consumer protection in place if you have our Comfort Club always here to get your system in shape.
The Comfort Club also includes, yes, maintenance for your heating system in fall. All those same benefits that apply to the AC also apply to the heater. Membership in the Comfort Club also provides special benefits such as priority service and scheduled reminders so you don't forget when it's time for maintenance.
We also offer a commercial maintenance program if you are a local business owner.
You can trust your valuable air conditioning and heating equipment to our team. We are Daikin Comfort Pros—the only ones on the north island—and our staff is diverse, well-trained, and professional. We are a family-owned local company and know how to treat residents right.
Temprite Climate Solutions serves Courtenay, BC and Surrounding Areas: For a job done right, call Temprite!