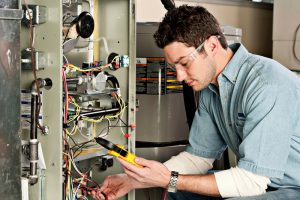 It's now officially fall—or at least it probably will be by the time you read this. (The first day of fall—the Autumnal Equinox—is September 22 this year). We often experience hot days in the early fall, but we all know that the cold days will soon arrive, and possibly sooner than we expect.
This is why we recommend our clients take advantage of this transitional time, when you won't need your heater and HVAC technicians to have less busy schedules, to arrange for your annual heater Maintenance in Comox, BC.
"Wait, this is supposed to be done every fall?"
If you thought that maintenance was only an "occasional" service, we're glad to correct you—because regular maintenance is one the best services you can have for your heater and your home in general. Residential heating systems in British Columbia go through serious paces each winter, and all this strain can make them start to decay and deteriorate quickly. A heater without routine inspections, tune-ups, cleanings, and adjustments from experienced professionals will age rapidly and create numerous problems. We never recommend you skip a year when it comes to this vital service.
The ways annual heating maintenance helps you
There are so many benefits of sticking to annual professional maintenance for your heating system, whether an electric furnace, gas furnace, boiler, heat pump, or ductless mini split. Here are the most important advantages of maintenance that help you stay comfortable and save money:
Safety: If you use a gas-powered heating system, maintenance is a must each fall. A professional inspection is the best way to ensure your gas heating system works as safely as possible through the season. You'll have little to worry about once you've gotten fall maintenance.
Fewer repairs: More than half of the repairs a heating system may require over its service life can be prevented thanks to maintenance. This means saving money and avoiding the inconvenience of a malfunction heater when you need it the most.
Avoid breakdowns: Preventing repairs also means preventing a major heater breakdown that can leave you trapped in a freezing house. The peace of mind alone is worth the cost—and, of course, you'll avoid having to pay an expensive repair fee.
Extended service life: A heating system that doesn't have maintenance has little chance of living to its manufacturer's estimated service life. If you want your heater to reach 10–20 years of quality work (depending on the model type), you don't want to miss a year of maintenance.
Lower operating costs: The wear and tear on a heater not only makes malfunctions more likely, it lowers the efficiency of the heater so it costs more to run with each year. Maintenance reins in costs so you'll save each winter.
Warranty protection: Most manufacturers' warranties require proof of regular professional maintenance to keep the warranty valid.
At Temprite, we offer a great residential maintenance program that cares for both your heating system and air conditioning system during the year. Reach out to us today to find out more details and to arrange for a convenient appointment for fall heating maintenance.
Temprite Climate Solutions serves Courtenay, BC and the surrounding areas. For a job done right, call Temprite!