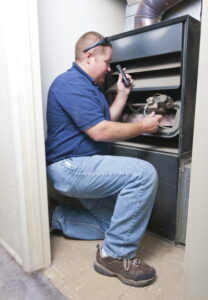 Spring means warmer weather, but it doesn't mean warmer weather immediately. Because early spring is often a temperamental time for the weather, we caution our customers to watch out for problems with their furnaces at this time of year.
After all, the furnace has just gone through a hefty winter of work and it may start to develop problems during the final stretch. Below are some common furnace problems to watch for in early spring.
Clogged air filters
Have you regularly changed the air filter for your furnace during the winter? Be honest! People often forget if they don't set special reminders for themselves. If you have left the same filter in place through the winter, then it's almost certainly extremely dirty now with dust, lint, and other debris.
Your furnace will perform at lower capacity with a clogged filter and also drain more power. Change out the filter, even with warm weather on the way, because your AC probably uses the same blower and therefore the same filter.
Dirty burners
This is a common problem that occurs after a furnace has been working through a whole winter. If dirt and dust manage to infiltrate the furnace cabinet, they can start to build up on the burners. This will block the burners from the oxygen they need to ignite, leading to delayed ignition or reduced heat.
Maintenance helps to slow down this process, but you may at some point still need to contact professionals to remove the burner assembly and clean it. (Don't try this on your own!)
Miscalibrated thermostat
A clock that's slow will gradually become more and more incorrect—and this applies to modern digital clocks as much as to analog ones. The same principle applies to the thermostat in your house.
It can start to misread indoor temperatures by several degrees, and this miscalibration will continue until it has an effect on how well your house is heated and what you're paying on energy bills. It's a simple job for our technicians to recalibrate a thermostat that's gone off track. 
Air duct problems
Your furnace wears down over time (although it will age slower if it has annual maintenance), but so does the ductwork connected to it. You may notice troubles with your furnace's performance that aren't the fault of the furnace but of leaky or dirty air ducts.
Air leaks can cause a loss of up to 30% of the air moving through the ventilation system. Air ducts that haven't been cleaned in 3 to 5 years will also hinder the furnace's ability to function and will contribute to poorer air quality. If you haven't had your ducts tested or cleaned in several years, please arrange for this at the start of spring.
If you need furnace repair in Campbell River, BC at this time of the year, please don't ignore the problem. You can reach our team and arrange for fast and effective repairs that will ensure your furnace runs safely and is ready for any sudden return of the icy weather. 
Temprite Climate Solutions serves Courtenay, BC and Surrounding Areas. For a job done right, call Temprite!