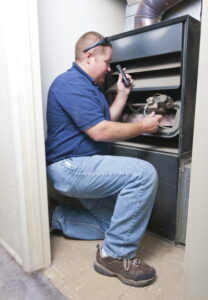 This is one of the most important posts we'll make this year—the reminder to all our customers and customers-to-be to sign up for heating maintenance for their central heater this fall. Routine maintenance inspections and tune-ups are an essential service to ensure the best performance from a heating system over the winter.
This "best" performance doesn't just mean getting an edge in heating quality. It can be the difference between a heater that works each day it's needed and one that must be replaced years early. It's the difference between a trouble-free winter with a heater and a system that needs heater repair in Parksville, BC—possibly more than once!
Heating Maintenance Program
You can call up an HVAC contractor each fall to schedule heating maintenance. But it's much better to join our heating maintenance program. This program provides full HVAC maintenance, so your heating and air conditioning system both receive the annual care they need. In addition to maintenance, our residential program provides special membership perks, and you won't have to worry about missing out on an appointment each year: we have you taken care of.
Yes, This Service Is Vital
We can't exactly call heating maintenance mandatory, since it's not something that's enforced. But it's as close as mandatory as service for your heating system can get, since the consequences of skipping maintenance are high:
Shortened system life: You want your central heating system to last for as long as possible. This can be from ten to fifteen years … if the system has routine maintenance. Without maintenance, that number can drop to half, and that's an expensive loss of years of service.
Increased repairs: The majority of repairs a heater may need during its lifespan are avoidable thanks to maintenance. Wouldn't you like to have more than 50% of your heating repairs vanish? That's what happens with maintenance, so you'll not only save money, you won't have to deal with the inconvenience of having to call for repairs or deal with a faulty heater.
Higher energy bills: Our winters are intense, and heating systems work hard to keep homes warm. You expect to see an increase in your gas and electrical bills during this time, no matter how well kept-up the heater is. But if the heater is not maintained, those bills will be much higher and probably keep getting pricier.
Fear of a breakdown: If you go into the winter with a heater that hasn't been inspected, cleaned, adjusted, and given a clean bill of health, you're at a higher risk of the system completely failing on you—a terrible mid-winter shock! You'll enjoy better peace of mind if the system is maintained before winter.
Call Our Team Today
You can trust that we'll take the best care of your heater so you avoid all of these above problems. We are qualified Daikin Comfort Pros and certified in refrigeration, sheet metal, electrical FSR, ventilation, and even Class B gases. Talk to us today to learn more about our residential heating maintenance program and get on the fall schedule.
Temprite Climate Solutions has the maintenance your heater needs for an easy winter season. For a job done right, call Temprite!