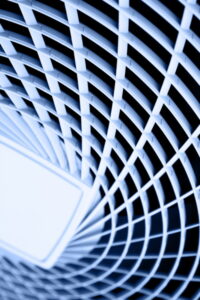 A central air conditioning system runs in cycles: the thermostat sends a request for cooling to the air conditioner's control board, the board turns on the compressor to place refrigerant under pressure, and the refrigerant circulates to remove heat from indoors. The cycle concludes after the thermostat registers the AC has met the target temperature, causing the compressor to cycle down (although the blower fan may continue to run).
A standard cooling cycle lasts for 15 minutes or more. This is the minimum time necessary for all parts of the AC to put in the work to make a noticeable difference in the indoor temperature. On hotter days, the cycle will last longer.
A cooling cycle shouldn't last significantly less than 15 minutes. If you notice that your AC running in a series of brief cycles, turning on and off multiple times during an hour, you have a short-cycling problem. Yes, a problem. Short-cycling creates major troubles for an AC and usually requires air conditioning repair in Campbell River, BC to fix it.
The Trouble With Short-Cycling
There are several reasons short-cycling isn't something you want happening to your AC:
It increases the stress placed on the air conditioner's parts, especially the compressor. The start-up part of a cooling cycle puts heavy strain on the compressor. Short-cycling will cause the AC to age rapidly, and you may need to have it replaced years early.
Along the path to an early replacement, a short-cycling AC will also experience more malfunctions and repair needs.
The extra power the air conditioner draws on as it starts and stops repeatedly will accrue into higher electrical bills.
The Causes of Short-Cycling
An AC can start to short-cycle for many reasons, which is why we recommend you always call on professionals to investigate when this happens. Some of the more common causes of short-cycling include:
A clogged air filter
An aging compressor
A miscalibrated thermostat
An air conditioner that's too large for the space it's meant to cool
Leaking refrigerant
So not only is short-cycling a problem on its own, it's probably a symptom of an underlying problem in the AC you need to have fixed.
Fixing a Short-Cycling Air Conditioner
We advise checking on the air filter for the HVAC system when you first notice short-cycling. If it's clogged, put in a clean filter to see if this stops the short-cycling.
If this doesn't work, you'll need to have the eyes of experts. To get your cooling working again and protect your AC, you want the source of the short-cycling solved. This may require fixing refrigerant leaks and restoring the proper refrigerant charge, recalibrating the thermostat, replacing worn-down motors, or even replacing the entire air conditioner if it's too old or was poorly sized when first installed.
We'll Solve Your AC Problems
Please don't ignore short-cycling—you may end up with a dead air conditioner years too early! You don't need to worry when you have our number handy. Our technicians will find the solution to whatever is holding back your AC from doing its best job.
Temprite Climate Solutions serves Courtenay, BC and the surrounding areas. For a job done right, call Temprite!