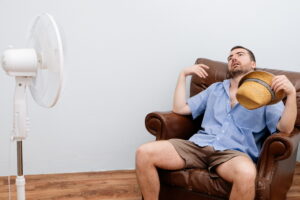 A properly installed central air conditioning system for a home is supposed to create comfort throughout the house. Air conditioning systems are designed to provide 11°C of cooling for a house, and that's often more than enough for people to feel comfortable (provided the air conditioning system is large enough).
But what if your AC isn't holding up its promise? If you turn on the AC, set it to a comfortable (but not too cold) setting of 26°C, and it isn't much hotter than 37°C outside (a pretty hot day for us), but you don't feel the house cooling down like you expect, you may have an air conditioner problem.
Below will look at some reasons your air conditioner is losing its cooling capacity and struggling to make your summer as cool as you want it.
The air filter is clogged
Congested air filters are the cause of so many different AC troubles that we'll probably make a post in the future to list them all. Right now, we're looking at how a clogged air filter affects cooling in a house. When the filter is clogged up with dust and lint and debris, it chokes off how much air can flow through the AC and be cooled. This will cause a noticeable drop in quality—but you'll be paying more for it because of the strain on the AC to work through the clogged filter.
The thermostat is malfunctioning
The air conditioning system may be working fine, but the thermostat that tells it how long to cool the house isn't. A common thermostat problem is a miscalibration: the thermostat's temperature sensor registers the wrong temperature for the house. So if the thermostat is sensing the house is 4° colder than it is, it will shut the AC down early and stop it from reaching the desired temperature. Please don't try to overcome this by lowering the thermostat more, since this can end up damaging the AC. You want the core problem fixed.
The ducts have air leaks
This is another problem that isn't with the AC itself, but the greater HVAC system. Air leaks in ducts can often escape detection for months, but they'll eventually lower cooling because the cool air will escape through the leaks. You'll probably notice hot spots in certain rooms, and your cooling bills will also start to climb. Professionals can locate and seal these leaks to solve the problem.
Short-cycling
This is when an air conditioning system starts and stops in rapid succession, never completing a full cooling cycle. This puts immense stress on the AC and can lead to an early replacement. It also means the AC won't stay on long enough to cool the house fully. There are many sources of short-cycling, so have a professional take a look at the system.
An AC that's too old
Maybe your air conditioner is telling you that it's over-the-hill, too old to do the job it once did. If your AC is more than 15 years old, this loss of cooling is a huge sign it's time to call us for air conditioning service in Campbell River, BC to put in a new air conditioner.
Temprite Climate Solutions. For a job done right, call Temprite!