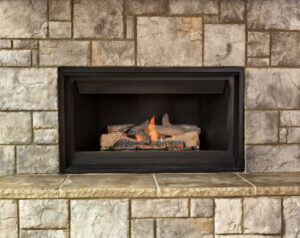 There's probably a direct correlation between how much people enjoy the winter season and whether they have a fireplace in their home.
Fireplaces bring a special cozy touch to the season that you can't get from using a furnace or boiler—even if those heaters are much more effective at spreading warmth all around your home.
Thanks to gas fireplaces, it's even easier to enjoy a glowing hearth without the work and inconvenience of wood-burning fireplaces. Gas fireplaces are safer as well, although they do have their own safety concerns.
To help you get the most from your gas fireplace in Qualicum Beach, BC this winter, we're going to go over a few important safety tips.
#1. Have the Fireplace Inspected and Maintained Annually
Please give your fireplace the same attention you give to your furnace or other central heating system. Just like those heaters, a gas fireplace requires annual maintenance to inspect it and make adjustments.
A gas-burning appliance needs checks for issues that could lead to safety hazards in the future. Along with helping your fireplace run safely, maintenance will extend its lifespan and lower repair needs.
#2. Keep the Area Around the Fireplace Clear
Establish a "safety zone" around the fireplace that is clear of any flammable objects or materials. Keep those attractive wooden decorations away from the firebox and don't have them lean against the screen or glass doors in front of the fireplace. Watch out for newspapers, drapes, books, and other items that might catch fire.
#3. Make Children Aware of Potential Fireplace Dangers
Gas fireplaces with a direct vent must have a barrier (glass panel, fine mesh screen) to help protect the space outside it.
However, this barrier will get hot when the fireplace is on, and this can hurt children who try to touch it.
Make sure that any children in the house are aware of this and establish rules about how close they are allowed to play near the fireplace when there is a flame burning.
#4. Test smoke and carbon monoxide detectors
If you use natural gas in your home, then it's vital to have smoke and carbon monoxide detectors installed. The CO detectors will give you an early warning of a rise in the level of this colorless, odorless, toxic gas.
We recommend testing the smoke/CO detectors every six months to ensure they're working properly. If you haven't done this, please have it done now.
#5. Call for Professional Assistance if Anything is Wrong
As soon as you suspect problems with your gas fireplace, stop using it and call for professionals to inspect it and find out if it needs repairs.
Signs to look out for include a change in the color of the flames, unusual odors from the firebox, and trouble lighting.
Never attempt to repair a gas fireplace yourself, as working with gas lines is extremely hazardous without the proper training and tools. 
Temprite Climate Solutions offer gas fireplace services to Courtenay, BC and the surrounding areas. For a job done right, call Temprite!