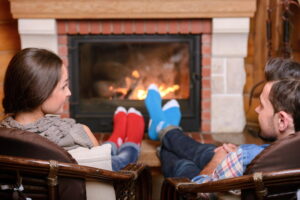 A fireplace is a sturdy centerpiece in many homes. If your house enjoys the warmth and beauty of a gas fireplace, you can expect to get many years of use from it (provided it receives proper maintenance such as regular cleaning, which is a service we offer).
Fireplaces at times need to have repairs, and these fixes are especially important if you have a gas log fireplace or a gas insert. You never want to take risks with any gas-powered appliance in your home, and prompt repairs help immensely at keeping a gas fireplace working safely for many winters.
Eventually, you'll need to have a new fireplace put in, replacing the gas logs, the insert, the gas lines, etc. We'll look at how you can tell if the time has come to consult with us about replacing your fireplace.
The fireplace is more than 15 years old
The material around a fireplace can last for decades, but the actual gas-burning parts have a similar life-expectancy as that of a gas furnace. Keeping up with maintenance and cleaning will make it easier to reach this milepost, but we generally recommend getting a new gas fireplace if your current one is more than 15 years in service.
The number of repairs are stacking up
How often do you need fireplace experts to come to your house and fix problems with gas flow or a non-responsive fireplace? It shouldn't be annually. It really shouldn't be every two years. That's still too often. The next time you have a repair problem, ask our technicians if replacement is a better option.
You want better gas fireplace technology
There are some terrific options for new fireplaces today that you might wish to take advantage of. These include touch controls, smart controls with superior heat management, and passive heating that is able to spread heat from the fireplace without having to use fans. If you've had worries about safety in the past, new fireplace technology has even better safety features.
The fireplace has become unsafe
Speaking of safety concerns, if you've had any trouble with your fireplace that was a safety hazard, give serious consideration to a replacement. Our technicians can analyze your current fireplace and give recommendations on how safe it is to run.
You plan to sell your home
This is a consideration that goes outside the effectiveness of the fireplace, but it's an important one for some homeowners. A new gas fireplace can help increase the value of your house to potential home buyers.
You just want something new/more powerful
Maybe there's nothing wrong with how your current fireplace works. You just don't like how it looks. It may seem outdated and tired with changes in your decor. Or you might be looking to have the fireplace do more actual heating for the house beyond looking attractive. Installing a new fireplace can update the look of a room and/or provide more thorough heating if that's what you want.
We are trained in the use of class B gases, a distinction few other contractors have, and are ideally suited for handling any gas fireplace installation in Qualicum Beach, BC.
Temprite Climate Solutions serves Courtenay, BC and Surrounding Areas. For a job done right, call Temprite!