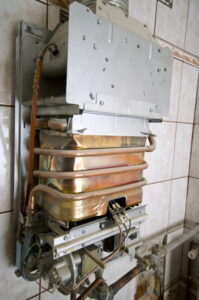 If you're asking this question, it's likely because you're accustomed to receiving warmth from a natural gas furnace, or you know that natural gas furnaces have high heating capacity and work fast at delivering warmth to homes. This makes it sound like an electric furnace is the weaker option, one that can't meet a home's demands when the outdoor temperature is intensely cold—which describes plenty of our winter days and nights!
Although we recommend natural gas furnaces to homes that have a connection to a municipal gas line, there is no reason why installing an electric furnace in Campbell River, BC can't provide you and your family with the warmth you need. For an all-electric house, an electric furnace is a perfectly viable choice. In fact, electric furnaces do have several benefits to consider.
Why gas furnaces are more common
We'll start by explaining why the gas furnace is the more popular option for winter heating and why it's recommended for homes that use natural gas. Gas furnaces have a high heating capacity, and natural gas is a less expensive energy source than electricity, at least in most areas.
A natural gas furnace won't need to put in as much work to warm a house during the winter compared to an electric furnace, and that also contributes to making a gas furnace less expensive to run. 
Where electric furnaces have the advantage
Electric furnaces come in different sizes, and an HVAC installer will find one with the proper heating capacity to meet your home's needs. This is why you don't need to worry that an electric furnace will fail at fully warming your house: provided professionals like ours handle the installation, the furnace will deliver the comfort you need.
Electric furnaces may be more expensive to run and aren't as fast as gas furnaces, but there are some areas where an electric furnace has an advantage:
Flexibility: No matter your home, there's a gas furnace that can take care of its heating needs. Any house can use one.
Upfront cost: The price of electric furnaces is lower than gas furnaces, so you'll spend less upfront when you have one installed.
Longevity: Gas furnaces accumulate wear and tear faster because of using combustion. Electric furnaces don't undergo the same stress and can last, on average, five years longer than gas furnaces.
Size: Electric furnaces take up less space than gas furnaces.
Safety: Natural gas appliances come with some risk of toxic gas exposure and explosions. Electric furnaces have far fewer concerns and are ideal for homeowners who don't want to worry about problems with natural gas.
Talk to us about your options
An electric furnace isn't your only choice for heating if you have an all-electric home. Our team is here to help you at every stage of the heating installation process, and that begins with helping you make the best choice for a new system. Whether it's an electric furnace, a heat pump, or some other option, you can trust our expert advice.
Temprite Climate Solutions serves Courtenay, BC and Surrounding Areas. For a job done right, call Temprite!