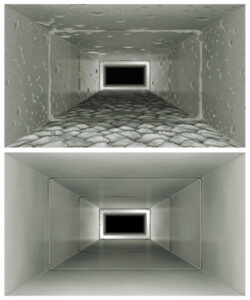 The ductwork inside the walls and attic of your house is probably filled with dust and debris. You won't necessarily know this because it's hard to see the inside of the ducts. But those dirty ducts will have a negative effect that can create serious problems for your comfort and your bills.
We recommend that our customers schedule duct cleaning every three to five years. If you haven't had duct cleaning in more than five years, or you've never had it done before, it's a great time to call us for this service. Curious about the benefits of duct cleaning? We'll explain more below.
How You'll Benefit From Duct Cleaning
To give you an idea of how ducts become dirty in the first place, consider this fact: the average six-person home circulates about 20 kg of dust and other particles through the HVAC system each year. Much of this debris will get caught inside the ducts and remain trapped there. This creates a build-up along the duct walls and reservoir for dust. Professional duct cleaning thoroughly removes all of this, helping you in the following ways:
Improved HVAC energy efficiency: All that dust on the duct walls creates air resistance against the air pushed through the ventilation system. This forces the HVAC system to work harder to do its job and leads to a plunge in energy efficiency. Clean ducts will lower your utility bills noticeably.
Better HVAC performance: Excess dust makes it harder for the HVAC system to spread heating and cooling around a home. Worse, the dust can infiltrate the HVAC components and lead to repairs and even a shortened system life. Cleaner ducts make for a more robust and effective comfort system.
Healthier indoor air quality: Each time the blower fan for the HVAC system turns on, it will blast out the dust and other particles in the ducts out into the air of the living space. When the ducts are cleaned, you'll have a less dusty house and fresher, healthier air to breathe. This can be a significant change for people in your house who have asthma or allergies.
If you still are unsure about whether you need duct cleaning or not, you can try this test: Open up the register to one of the ducts in your house and then reach inside it with your smartphone and take a photo of the duct interior. If the image you see looks like a clogged auto filter, you probably need duct cleaning.
Only Trust True Professionals for Duct Cleaning
There are many companies that offer duct cleaning at cut-rate prices—and they deliver cut-rate services that aren't much more than a shallow and quick vacuuming of some parts of the ventilation system. For full, effective duct cleaning in Courtenay, BC, you have to come to experienced pros with the best professional equipment. It's our goal to do every job right, and our air duct cleaning services will see your home receives the full benefits of this service.
Temprite Climate Solutions serves Courtenay, BC and the surrounding areas. For a job done right, call Temprite!