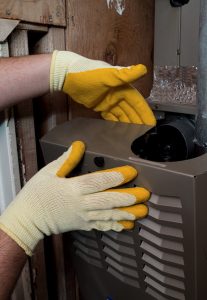 We hope that you scheduled your air conditioning tune-up in Parksville, BC in spring or early summer. This is an essential job to ensure you enjoy a summer without an AC that gives you grief with repairs, poor performance, or skyrocketing bills.
Now it's almost fall, and that means we're turning away from air conditioning and looking at heating. Heating maintenance, that is. It's not cold yet, but there's no better time to have your heater inspected and tuned-up than during a time when you don't need to run it. You'll be glad you got maintenance out of the way early so you're ready when the first cold day of fall strikes.
Sign Up for Our Residential Maintenance Program
If you are new to Temprite and aren't a member of our residential maintenance plan, this is the time to sign up. Our residential plan does more than inspect and maintain your heater. It also covers your air conditioner, air quality systems, and any other HVAC-related system.
As a member, you'll receive regular reminders to schedule maintenance so you won't forget and you'll have front-of-the-line access for service. Simply call our offices to find out more details and to enroll in the program. We'll get you started with a convenient appointment for heating maintenance. (Another benefit of scheduling heating maintenance in fall is that it's a less busy time for technicians.)
Why We Recommend Keeping Current With HVAC Maintenance
We always remind customers about the importance of maintenance twice a year: first in spring for air conditioners, then in fall for heaters. The benefits of maintenance and the trouble it avoids are immense. It's an investment that pays off. Here are some of the major benefits of routine HVAC maintenance.
Energy efficiency: The efficiency rating on your equipment won't mean much if the system is allowed to deteriorate year after year without professional care. Instead of your heater losing a percentage of the efficiency rating annually—which means the heater will cost more to run—you can have maintenance keep it at peak efficiency for most of its service life.
Fewer repairs: You don't want to schedule repairs for your heater if you can help it. Ever. Nothing can make a heating system repair-free entirely, but maintenance is as close as it gets. The majority of repairs a heater may need during its lifetime can be prevented with routine maintenance.
Long service life: A natural gas furnace can last 15 years and sometimes more if it has professional maintenance. Without maintenance, it may only last eight years. For all types of HVAC equipment, a long service life is only achievable through maintenance.
Safety: This is vital for natural gas-powered furnaces, the most common type of heating system. Regular inspections can catch potential dangers, and routine care helps stop harmful malfunctions.
Warranty protection: Lack of maintenance may void the equipment warranty for your HVAC system. You'll end up paying for parts replacements that the warranty would have otherwise covered.
Best of all, you'll enjoy peace of mind that your heater will get through the winter with few to no problems.
Look to Temprite Climate Solutions for your HVAC maintenance service. For a job done right, call Temprite!