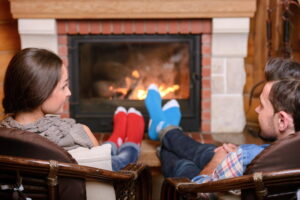 Fall is the time of the year that we recommend our customers schedule maintenance for their central heating systems. Taking care of your furnace, boiler, or heat pump before winter arrives is the best way to ensure you enjoy vital comfort throughout the season without troubles from repairs or high bills due to wear and tear.
Your central heating system isn't the only heater in your house that requires attention from professionals. If you enjoy a gas or propane fireplace in Campbell River, BC, we advise you to schedule maintenance service for it as well. You may not depend on the fireplace to warm the whole house, but it's a great addition and brings a special cozy ambiance to the winter days and nights that you just can't get from a central furnace. Regular maintenance lets you enjoy your fireplace to the fullest, without worries about safety or operating problems.
Maintenance and the Gas Fireplace
All types of fireplaces require maintenance. One of the convenient aspects of a gas or propane fireplace compared to a wood-burning one is that gas fireplaces require less intensive maintenance to keep them working safely. Wood fireplaces can create creosote, and they require extensive cleaning and chimney inspection on a regular basis.
By comparison, gas fireplaces have much lower maintenance—at least on a daily basis. You don't have to regularly clean up ashes and deal with soot. Unburned fuel won't end up coating the chimney and become both unsightly and potentially dangerous creosote.
But … you can't skip out on an annual maintenance inspection for your gas fireplace. The reason is that any natural gas-burning or propane-burning appliance in a home requires inspections to see they are operating safely. You are dealing with a highly flammable gas that can create toxic byproducts. You can do a few maintenance steps for your fireplace on your own, but you must leave the annual cleaning and safety inspection to a licensed professional.
What Occurs During Fireplace Maintenance
Gas fireplace maintenance isn't an obtrusive or time-consuming process. You can expect our technicians to have the job completed in around an hour.
The main part of maintenance is a special cleaning of the fireplace that includes the burners, the gas logs, and fire box. Our technicians will clean the logs of debris and grime. They'll use special equipment, such as fine bristle brushes and power vacuums to provide a deep cleaning.
The even more important part of maintenance is the inspection done on the burners, the gas lines, and the ventilation. We'll check the gas pressure and look for any signs of leaks. We'll see that the fireplace is properly venting combustion fumes and that the chimney has no blockage in it. We're especially attentive of the possibility of leaks of carbon monoxide, a toxic, colorless, and odorless gas that may enter your living spaces.
(An important note: if you use natural gas or propane in your house in any fashion, you must have carbon monoxide detectors installed at key positions. This will provide you with an early warning of a CO build-up so you can leave the house and call the gas company.)
Temprite Climate offers maintenance and other services for natural gas fireplaces. For a job done right, call Temprite!