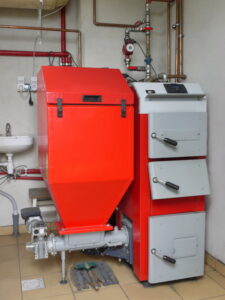 If you use a boiler to provide heat to your house, then one of the biggest benefits you'll receive from it is a (hopefully) long service life that can overtake the life expectancies of most furnaces and heat pumps. The reason for this longevity is that boilers use fewer moving mechanical parts, and therefore wear down much slower. Boilers still face issues that can arise from corrosion, but these are easily delayed if the system has routine maintenance.
But you want a better idea of what to expect from your boiler. How long will it keep running effectively before it's time to schedule boiler service in Campbell River, BC to put in a new one?
Basic Life Expectancy Estimates
As with any complex piece of equipment, boiler life expectancy can only be an estimate. Too many other factors are involved, such as frequency of use and if the boiler has regular inspections and tune-ups. There are also different models of boilers and various technologies that will affect service life.
But we can give you some general figures. The standard modern hot water boiler will last around 20 years, sometimes more. Older cast iron steam boilers can last longer, and may even reach 50 years—but this is rare, and you probably don't have a cast-iron steam boiler. High-efficiency boilers, such as condensing boilers, have shorter service life expectancies, usually around 15 years, although they can reach 20 if cared for right. 
How Service Life Can Decline
Several factors can cause a boiler to begin to fail earlier. Some of these you have control over, such as maintenance.
We cannot emphasize enough how important maintenance is to ensure your boiler lasts for as long as possible. Without maintenance, there is a higher chance that corrosion will begin to affect the boiler. When corrosion sets in, that usually means the boiler must be replaced. Corrosion can develop not only on the tank and the parts that come into contact with water, but on the heat exchanger. A corroded heat exchanger can crack, leading to dangerous gas leaks.
A boiler that received a poor installation from amateurs is also unlikely to reach its full-service life. A bad installation can mean higher pressure inside the boiler and inferior venting, which speeds up corrosion. We've often seen the effects of a bad installation on a boiler, and the only solution is to replace it. 
One factor you can't control is how long and cold the winters are—in other words, how much you must use your boiler. We have cold, lengthy winters, so any boiler will deal with more stress than one for a warmer climate. However, knowing how best to set temperatures in your house and take various energy-saving measures can help offset this.
When in Doubt, Call Us
If you have concerns about your current boiler and think it may need a replacement, the best step is to call our technicians. We can inspect the boiler and give you an idea about how long you can expect to keep it or whether repairs or a replacement is a better option. You can trust us to always be honest with you and look out for your best interests.
Temprite Climate Solutions serves Courtenay, BC and the Surrounding Areas. For a job done right, call Temprite!