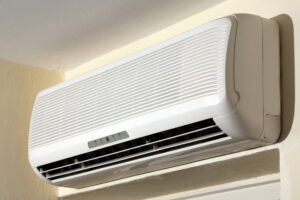 Ductless heating and cooling systems, also known as ductless mini split heat pumps, continue to climb in popularity for both homes and businesses. You may be one of the many who is considering having a ductless system installed for your home. That you're reading this means you want to know more about using ductless mini splits and how they may benefit your household.
We're glad to provide you with answers here. At least some of them: there's plenty to know about ductless heating and cooling! After reading this, give us a call and we can fill you in on all the details that will help you decide if ductless cooling and ductless heating in Courtenay, BC is right for you. Below are a few of the biggest advantages of ductless mini split heat pumps.
Flexibility
Ductless systems, as the name indicates, don't use ductwork. They instead send heated and cooled air into living spaces through wall-mounted units that connect to a single outdoor unit. This set-up makes ductless systems easy to fit into many homes, such as older ones without space for ducts and for newer ones looking to conserve space. Ductless systems are also excellent options as adjuncts to an already installed HVAC system to target hard to heat and cool areas.
Energy conservation
Compared to standard ducted heat pumps (as well as air conditioners and furnaces), ductless systems consume less energy. Part of this is because they don't gain or lose heat through duct walls. They also use smaller motors to operate, drawing on lower amounts of energy.
Zone control
The individual air handlers of a ductless mini split heat pump mounted in the rooms are controlled via remote controls so only the units in rooms that need heating or cooling need to be on. This is another way that ductless systems help to lower costs—you don't have the turn on all the units when you only need comfort in a few spots.
Add-on rooms and room conversions
If you are adding a room onto your house or want to convert a place like the attic or garage into a living space, you won't have to re-do the entire HVAC system just so you can condition the room. Instead, have a ductless mini split installed and the comfort needs for the new room are taken care of.
Improved indoor air quality
One of the problems with ductwork in a home is that it collects dust over time. Whenever the blower fan of the HVAC system comes on, it sends out all this unpleasant debris into the living spaces and harms indoor air quality. This can be especially difficult for people with allergies and asthma. No worries with a ductless system, because they're no ducts to gather dust!
We provide full service to install, repair, and maintain ductless heating and cooling systems, and we are the only Daikin Comfort Pro on the North Island. You won't find a better qualified or more thorough HVAC team to see to your comfort needs.
Temprite Climate Solutions serves Courtenay, BC and the surrounding areas. For a job done right, call Temprite!