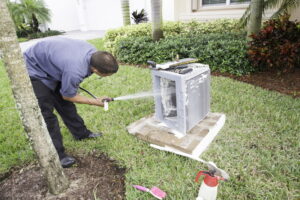 Are you enjoying the spring weather? This is one of the most relaxing times of the year when it comes to outside temperatures, hitting that sweet spot between too cool and too hot. But these spring temperatures won't last much longer. Your home's air conditioning system will soon start its regular work of cooling down your family—and it might not be ready for the job.
There's one way to make sure your AC is prepared for the summer, and that's with a professional tune-up and inspection. Thanks to professional maintenance, you can lower the chance you'll need to call for AC repair in Parksville, BC or have an air conditioner that wastes money whenever it comes on.
The Benefits of an Annual Pre-Summer Tune-Up
A regular maintenance tune-up and inspection offers great short- and long-term benefits:
Prevent most repairs: The majority of repairs an air conditioner may need over its service life are the fault of lack of maintenance. By keeping up with annual maintenance appointments, you'll banish most malfunctions and the cost to fix them.
Extended equipment life: An air conditioner that has maintenance each year will last longer than one that doesn't. In fact, an AC that doesn't receive maintenance may only work for half as many years as one that does. That could be the difference between replacing an AC after 15 years and replacing it after only 7 or 8 years.
Better energy efficiency: A tuned-up AC will retain approximately 95% of its original energy efficiency for most of its service life, only starting to decline in the last one or two years. Neglecting maintenance will cause the system to lose around 5% of its efficiency rating each year—and that means steeper electric bills.
Superior capacity: When an air conditioning system is in top shape, it will have greater cooling capacity and won't struggle to deliver the cooling your household needs.
Peace of mind: Getting an AC tuned up before summer lowers the chance it will suffer a sudden breakdown on a hot day. You can relax knowing that your AC will work for you when you need it the most. 
It's Never Too Late…
Although we strongly encourage you to have maintenance done before summer starts, there isn't a cut-off date for it. You'll benefit more the earlier you have it done, but it's essential that you don't skip it entirely for the year. Missing maintenance might void the AC's warranty, shorten its system life, and stick you with a broken cooling system on the hottest day of the summer. These aren't risks you want to take, and there's no need to take them.
Our Residential Maintenance Program
We have a residential HVAC maintenance program to make getting your regular pre-summer AC tune-up and inspection simple. Along with the regular maintenance services that provide you with all the benefits above, membership in our maintenance program provides you with perks such as front-of-the-line priority service and reminder calls so you won't forget your regular appointments. Call our office today to learn more about our maintenance program.
Temprite Climate Solutions serves Courtenay, BC and the surrounding areas. For a job done right, call Temprite!