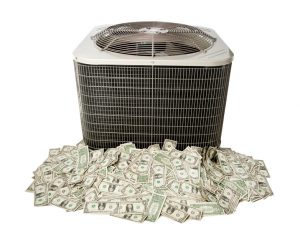 Summer means a rise in electric bills for a household as the air conditioning starts running regularly. The AC requires plenty of electrical power for its compressor and fans, and unless you want to sweat out most of the summer, you can expect to have those higher electrical bills. But … they don't have to be as high as they sometimes are. You may be wasting electrical power and not realize it.
We'd like to help. Here are some tips for your air conditioning in Courtenay, BC, at the beginning of summer that can help make the whole season less expensive—while still being cool!
Always schedule routine maintenance with professionals
Always, always, always. We recommend having this done in the spring before the heat arrives, but it's not too late if you haven't done it. Professional maintenance helps an air conditioner in many ways (fewer repairs, longer lifespan, better capacity), but one of the most important is that it prevents the AC from losing energy efficiency and causing utility bills to rise.
Change the air filter routinely
This is a maintenance task you can do on your own, and which you'll need to do on your own through the summer. The air filter on the AC (ask your technicians during maintenance where it is if you don't know) becomes clogged over time, and after only a month it may need to be changed for a new one.
At the most, it will need to be changed after three months. Leaving this filter in place can create multiple problems, and the most immediate of those problems is a spike in energy use as the blower fan has to fight to pull air through the congested filter.
Raise the thermostat, don't lower it
Sounds a bit weird, doesn't it? We're not recommending you try to warm your house. What we mean is you should avoid continually turning down the thermostat to attempt to get "more cooling" or speed up cooling.
That's not actually how the AC works: you'll enjoy better cooling if you leave the AC at a single setting during the day when people are home. This steady setting helps the AC use less power, and rather than lower it, raise it around 78°F. This is comfortable for most people, and it prevents rapid heat gain from outside. You can save between 10% to 25% over the summer at these steady settings.
Respond fast to suspected AC faults
When your air conditioner is acting strange—even if you don't notice a change in cooling in the house—please call on HVAC repair technicians to look into it as soon as you can. These malfunctions may not be affecting comfort (yet) but they will raise bills. In fact, rising electrical bills is one of the major warnings an AC has problems. The sooner you have it inspected and corrected, the less expensive the repair is likely to be.
You can depend on our team for all the help you may need to stay cool at affordable prices. We have after-hour services available for your convenience.
For a job done right, call Temprite! Temprite Climate Solutions serves Courtenay, BC and the surrounding areas.