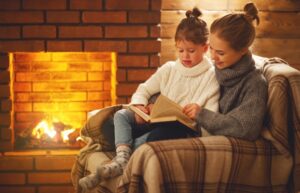 You might think that a natural gas fireplace is as durable as a heating system gets. Fireplaces can last for many years, and since most people who have a fireplace in their home use it mostly for atmosphere and additional warmth rather than as a main source of heating, fireplaces don't see the same level of use as furnaces or boilers. They also don't burn wood and therefore don't produce creosote, soot, ashes, and other byproducts that make regular cleaning so critical for wood-burning fireplaces. In fact, one of the reasons most people prefer gas fireplaces is they don't require daily cleaning and maintenance.
But gas fireplaces do require professional maintenance and upkeep on a regular basis, and if you don't have an annual cleaning and inspections for your fireplace Campbell River, BC, it could turn into a costly problem—and the fireplace might even become unsafe. We offer gas fireplace cleaning and maintenance, and we'll explain below why you should make this a regular service in your home.
Any gas-burning appliance requires regular cleaning
Natural gas burns cleanly, unlike wood, but gas-burning appliances still must have routine attention from professionals to keep them working correctly and safely. The burners in your gas fireplace will develop build-up over time, such as carbon, and they must be cleaned routinely or they will struggle to light because they'll lose easy access to oxygen.
Cleaning the burners in the gas fireplace isn't something you can do on your own. Technicians must remove the burner assembly and use special chemicals on it to clean off any carbon build-up and other debris without damaging the burners.
During cleaning, technicians will also check on the gas lines, valves, and ignition system. Dirt on the ignition system can prevent the fireplace from coming on, and the other inspections will catch any potential hazards from line blockage or leaks.
The chimney needs cleaning as well
A gas fireplace may not create the creosote that will coat the inside of a chimney, but the chimney will also require professional cleaning. Plenty of objects and debris can become lodged in the chimney, such as animal nests. The winter weather can send a lot of unwanted items into the chimney, and a good cleaning will keep the fireplace properly venting combustion gases up through the roof and not down into your house!
Call the fireplace cleaning experts
Our technicians at Temprite Climate Solutions are certified Class B Gas Professionals and know how to expertly maintain and clean gas fireplaces. Our owner, Lance, is also a volunteer firefighter. That will tell you how dedicated we are to keeping homes safe with all their gas-burning appliances. We can handle all the maintenance your gas fireplace requires, cleaning it and making sure it passes important safety checks.
We recommend you have cleaning and safety inspections done each year for your fireplace. We'll be in and out of your home before you know it, and you can get back to enjoying your natural gas hearth.
Schedule your gas fireplace cleaning with Temprite Climate Solutions. For a job done right, call Temprite!