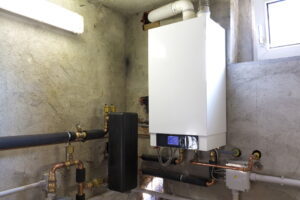 Our weather is starting to warm up, but it's still cold enough that homes will need to depend on their heating systems for a bit longer—and we all know that March and early April can toss surprise cold snaps at us. Still, this is the time of year when we recommend that homeowners take stock of their heating system if it's started to show signs of problems.
In this post, we'll look at boilers. Boilers can last longer than forced-air heaters (furnaces, heat pumps), but they still won't last forever, no matter how much we'd like that. If you have started to run into problems with your boiler—such as poor performance, reduced heating, strange noises, higher energy bills—at the end of the winter, you'll want to consider whether the heater needs repairs or if it's time to replace it entirely. We offer complete boiler service in Port Alberni, BC and throughout Courtenay, BC and the surrounding areas, so we can shed some light on this conundrum and help you make the best choice for your home comfort future.
Young Boiler vs. Senior Boiler
We mentioned above the longevity of a boiler—they can last for twenty or more years, which is five years longer than you can expect from a gas furnace or heat pump. If your boiler is still under 15 years old, we recommend you investigate repairs when the heater starts to malfunction. If you've arranged for routine maintenance for the boiler, it still should be in good shape and repairs will keep it going for several more productive and efficient years. 
On the other hand, once your boiler is over 20 years old, it's time to make replacement the priority. Repairs may not "stick" well, and you'll end up having to repair the boiler regularly while seeing a steady decline in energy efficiency. It's better to send the boiler to the recycling yard and start with a new one that will give you no problems.
Repair Frequency
We touched on this in the last section, but it requires more elaboration. Even if your boiler is less than 15 years old, it shouldn't have to deal with repairs on a yearly, or even twice-yearly basis. This is simply too much, and it may indicate a factory fault or lack of maintenance. You shouldn't need to keep calling for repairs this often—boilers are designed to resist most repairs. You can ask our technicians on a repair visit if repairs can keep the system going for longer, and they'll give you an honest diagnosis of the boiler's future.
Cost of Heating
One of the benefits of boilers is their high energy efficiency compared to forced-air systems. Water is a more effective heat transfer medium than air, and that helps boilers cost less to run compared to other heater types. When you stop seeing the efficiency benefit because your heating bills are climbing steadily and fast, you probably have a boiler coming to the end of its service life. It's better to start with a new, energy-saving boiler at this point rather than to keep sinking money into the older boiler.
When you have any doubts about your boiler's future, call our technicians and let them give the system an inspection. We'll help you make the best decision.
Rely on Temprite Climate Solutions for your boiler or other heating system needs. For a job done right, call Temprite!