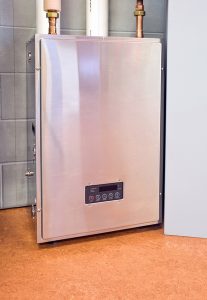 The tankless water heater is growing in popularity in homes with each passing year. Many homeowners love having this addition to their household as a replacement for a standard storage tank water heater. There's plenty to love: Tankless water heaters consume much less energy than standard water heaters, have longer service lives, take up less space, and provide unlimited hot water without running out (provided the water heater was accurately sized when installed—that's why you always want professionals on the job).
There are some potential drawbacks to tankless water heaters. They aren't right for every home or situation. They cost more than other water heaters to install, and although they save money over their service lives, this initial higher price tag may not fit with some household budget. And there's also the question of other changes that may need to be made to the plumbing and heating system to accommodate a water heater installation in Parksville, BC. Although not true for all homes, some will need to make more extensive changes to adapt to how a tankless system works.
The Water Filter Addition
If your home doesn't have a whole-house water filter installed, you'll almost certainly need to have one added along with a tankless water heater. This is because tankless water heaters are susceptible to clogging because of minerals and other particulates in the water. Tankless systems have small intakes that can rapidly close up because of minerals.
Hard water in particular is a serious issue for tankless systems, and if your home has problems with hard water, you'll need to have a water softener installed as well.
The Gas Line Changes
An installer can't simply pop out an old gas tankless water heater and hook up the new tankless one to the same set of gas lines. Tankless water heaters won't work with the same gas line because of the difference in gas pressure and because they need to draw on more gas when they turn on. (They use less energy overall, but still need a stronger gas feed.) You'll need to have to upgrade for the gas line to match the tankless system. The gas line size will depend on the amount of BTUs of heating power of the new water heater, and this is a job your installer can handle—although it can be a big job.
Exhaust Changes
A gas-fired tankless water heater might also require upgrading the exhaust system that removes the gas byproducts after combustion and heating is finished. This is a key safety step, and you'll again want to have the best professionals to handle the work.
Although all this can sound intimidating, you can trust our experts to help you with discovering the total cost for making the upgrade to a tankless water heater so you'll know what to expect. We'll see you have all the important information to make the best choice for your home's future water heating system.
Interested in getting a tankless water heater installed? Look to Temprite Climate Solutions. For a job done right, call Temprite!