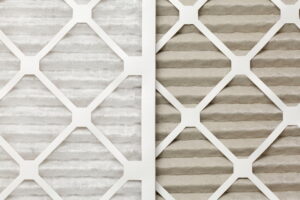 People have great concern about the air quality in their homes than ever before, and this means an increase in homeowners interested in air filtration and air purification systems.
For anyone unfamiliar with indoor air quality (IAQ) systems, it can feel overwhelming to approach the many types of filters and purifiers available, starting with the question of whether a home needs one or not. Below we'll look at these options and what may best suit your needs for better indoor air quality.
The filter on your HVAC system
You might think that you already have an air filtration system in place: the filter on your HVAC system cabinet (sometimes called the furnace filter or AC filter). This is a common misunderstanding. That filter is not in place to improve the air quality inside the house.
It protects the interior of the HVAC system from the dust and debris that enter through the return air ducts. These filters are usually 1" polyester filters that don't stop much more than the largest particles from passing through them. They work at protecting the HVAC system, but not improving the air you breathe indoors.
The whole-Home air filtration system
The type of air filter you want for improving indoor air quality is a whole-home air filter. These are a great starting point for cleaner air, and almost any home will benefit from having one. The high-efficiency media filters used for these filtration systems are usually 4" to 6", and they can last anywhere from six months to a year before needing replacement. Depending on the filters' strength, they can trap particles down to .1 micron in size.
To have an effective air filtration system, you need to have professionals install it. The filters must go in a special housing that HVAC experts plumb into the existing ducts. Professionals will also need to find the right strength of filter—too strong a filter will block airflow, and this will cause damage to the HVAC system and impede comfort around the house.
The air purification system
An air purifier isn't an alternative to air filters, but an addition. An air purifier on its own won't be able to handle larger particulates such as dust and lint; you need an air filter to first strain out those. An HVAC professional can tell you if you need to have an air purifier in Port Alberni, BC to remove pollutants that will slip through a filter.
Smaller airborne particles that air purifiers can affect include volatile organic compounds (VOCs), smoke, carbon monoxide, chemicals, odor molecules, bacteria, mold spores, viruses, and germs. The right combination of filters and purifiers can remove more than 99% of the unwanted pollutants from circulating through your household air.
Call our experts for great indoor air quality
To summarize: you probably need an air filter for your house, and may need an air purifier in addition to it. The quickest way to find out what strength of air filter and type of air purifier is to get in contact with our team. We offer many IAQ solutions for local homes.
Temprite Climate Solutions serves Courtenay, BC and the surrounding areas. For a job done right, call Temprite!