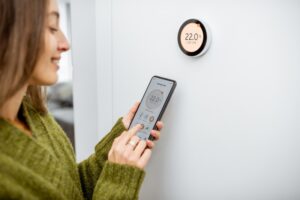 There are many misunderstandings about how air conditioning systems work that we encounter. For example, air conditioners don't "use up" refrigerant and won't need to have any more put in unless the refrigerant leaks out.
One of the most common misconceptions about air conditioning systems is about how the thermostat controls the AC. People often believe that the farther they lower the thermostat, the harder the air conditioner will work to deliver cooling. So if people want faster cooling for their house, they'll push the thermostat setting to its lowest temperature. Except, this isn't how the thermostat or AC works.
Below we'll examine the thermostat-air conditioner connection and how you can use this knowledge to save energy while still keeping cool in summer.