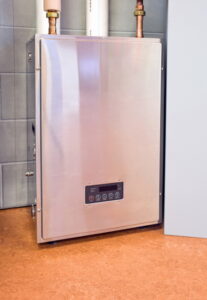 We often recommend our customers look into tankless water heaters as an option when they're shopping for a water heating installation or replacement. Tankless systems have a great deal to offer: they save energy, last longer than traditional water heaters, take up less space, and won't run out of hot water.
The tankless water heater does sound like a piece of nifty new technology. But here's the surprise: tankless water heaters aren't "new" at all. The technology of the tankless water heater is almost as old as the standard storage tank water heater. What's new is the popularity and presence of the tankless water heater. We'll explain more below as we look at the interesting history of this alternative method of keeping hot water flowing from the taps in a house.
In the beginning … about 1889 or so
In 1889, the pizza margherita was invented in Italy by Raffaele Esposito, which started the development of what we consider modern pizza. That makes the invention of the tankless water heater only the second best invention of the year, but it's still an important one. However, that early tankless water heater wasn't a cost-effective method of providing hot water. It used a thick copper design that made it too expensive for most people to acquire for their homes. Experimentation with tankless designs continued through the 1890s and into the early 20th century, but the storage tank water heater was far ahead and firmly established itself as the number one choice for homes and businesses.
The tankless water heater moves forward
It was 1929 and the stock market was about to crash, creating a global depression. But it was a good year for the tankless water heater, because it's when Stiebel-Elton invented the first electric tankless water heater, a coil immersion model. Today, we recommend gas-powered tankless systems over electric ones, but in 1929 the electric model was a major breakthrough that lowered the manufacturing cost of tankless water heaters. However, even with this advance, tankless systems were still not energy efficient enough compared to storage tank systems and did not make much of an impact on the market.
The 1970s European surge
It wasn't until the 1970s, a decade when energy conservation became a hot topic across the globe, that tankless water heaters advanced to compete in efficiency against storage tank systems. Europe began to adopt tankless systems, not only as a way to lower energy costs, but also to save space in their smaller, older homes. The tankless system still didn't spread far in North America, where space was less of an issue and storage tank systems had a strong hold on the very idea of a water heater.
The 1990s boom
With the arrival of the '90s, the tankless water heater became a true competitor with standard systems. Tankless systems weren't just space-saving options: they had superior energy efficiency compared to storage tank water heaters. They also required fewer alterations to existing plumbing systems, making them more versatile and easy to install as upgrades for homes.
If you want to know more about installing a tankless water heater, we're the team to call. We specialize in water heater services, from installations to water heater repair in Ucluelet, BC.
Temprite Climate Solutions serves Courtenay, BC and the surrounding areas. For a job done right, call Temprite!