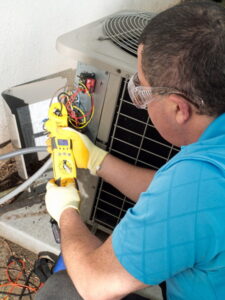 We want our customers to enjoy comfort from their HVAC systems that is reliable, effective, and affordable. One of the best tools we have to help them achieve this is regular maintenance service and our special residential maintenance plan. Through the plan, our valued customers receive fall tune-ups and inspections for their heating systems, and then in spring their air conditioners get the same quality treatment.
Guess what season it is? The calendar says April, so it's spring. Even with cooler weather, April is the ideal time to arrange to have maintenance done for your home's central air conditioning system. If you aren't already a member of our residential maintenance plan, we recommend you talk to us today to sign up. We'll then get you on the schedule for air conditioning maintenance in Tofino, BC, or elsewhere in our wide service area.
How Maintenance Improves Your Air Conditioning
During routine maintenance, our technicians run your home's AC through a series of tests, inspections, cleanings, and adjustments. The goal is to reduce wear and aging on the system, and to catch early signs of trouble before they can grow into major repairs or a serious breakdown. In short, maintenance improves performance and prevents problems.
The benefits of regular maintenance are broad—prevention and better performance translate to numerous advantages:
Longevity: Regular tune-ups for a complex device like a central air conditioning system do marvels for how long it will last. Lack of maintenance can end up reducing an AC's estimated lifespan by half.
Fewer repairs: Did you know that more than half the repairs an air conditioner may need over its lifetime can be prevented through maintenance? Think of how much money and time this saves you.
Lower chance of a breakdown: Nobody wants to head into a hot summer with worries that their air conditioner is wobbly and likely to fail when needed the most. Maintenance is a great "insurance policy" against this occurring.
Better energy efficiency: Neglecting maintenance needs for an air conditioner will cause it to gradually drain more energy to operate. You might soon pay 25% more to run the AC than you should. Maintenance keeps efficiency high and your bills under control. 
Warranty protection: Missing out on maintenance can void the manufacturer's warranty on your air conditioner. You'll end up needing to pay for repairs the warranty would otherwise cover. Maintenance means you'll have your warranty kept in place. 
Improved capacity: A well-maintained air conditioner will work better and provide the level of cooling you expect each summer.
Schedule Maintenance With Us Today
We're ready to help with your air conditioning system maintenance—you only need to call us to sign up for our residential maintenance program. As a member, you'll receive both air conditioning and heating maintenance during the year at the appropriate times.
Membership also comes with special benefits, like scheduling reminders and front-of-the-line priority service when you need AC or heating help. Reach out to us today to learn more details about our maintenance program.
Temprite Climate Solutions is your local HVAC expert in Courtenay, BC. For a job done right, call Temprite!