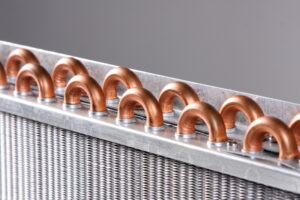 Refrigerant leaks are a problem that can strike any air conditioning system. Just because they're common doesn't mean they aren't serious. A refrigerant leak will lead to a string of problems that eventually conclude with an air conditioner permanently breaking down when its compressor fails. 
In this post, we'll look at why refrigerant leaks are such a problem for an air conditioner and how you can recognize leaks so you can call us for air conditioning repair in Qualicum Beach, BC.
The Danger of Refrigerant Leaks
People often misunderstand the job of refrigerant in an air conditioning system. They may know that the refrigerant is what somehow makes the air cooler, but they may also believe that the air conditioner runs off the refrigerant as if it were a fuel source.
So we want to make this clear: an air conditioning system does not use up refrigerant like a fuel. The amount of refrigerant in an AC, known as the system's charge, should remain constant for the life of the unit. Refrigerant goes through a process of evaporation and condensation to allow it to move heat from indoors to outdoors, and during this process, it never dissipates. 
This is why leaks are trouble: they lower the charge of the air conditioner. This makes it harder for the AC to absorb enough heat to provide adequate cooling. But there are even more problems. An AC is designed to run at a specific charge, and if that charge drops because of leaks, it jeopardizes the whole air conditioner. Not only will heat absorption drop, but the AC will drain extra power, its coils will freeze, and the compressor will finally overheat. A burnt-out compressor is expensive to fix, and in many cases, it's more cost-effective to replace the whole AC.
Noticing Refrigerant Leaks
Leaking refrigerant is difficult to notice at first. These leaks are tiny, often the size of pinholes, that form at spots of corrosion along the refrigerant lines. But you can pick up on when an AC is running with lower refrigerant by looking for these warning signs:
A hissing or bubbling sound coming from parts of the AC. These are the sounds made by gaseous or liquid refrigerant escaping from refrigerant lines.
A change in indoor humidity. With lower amounts of refrigerant, an air conditioner will pull less moisture from the air as the refrigerant evaporates in the evaporator coil. You'll often notice a change in humidity before you notice a drop in cooling.
Ice forming along the evaporator coil. It may seem odd that less refrigerant would cause ice, but this is an example of why the balance of refrigerant is so crucial for an AC. Too little refrigerant won't absorb enough heat to warm up, so it will remain too cold and cause ice to form on the coil.
The air conditioner begins to turn on and off rapidly, known as short-cycling. Many different malfunctions can cause this, so you'll want it looked at regardless of whether it's due to leaking refrigerant.
Please act quickly when you suspect something is wrong. The sooner we're on the job, the less danger of your air conditioner needing a larger repair.
Temprite Climate Solutions: For a job done right, call Temprite!